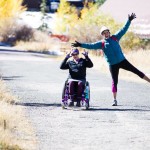 They traveled across the country, originating from Washington State to Delaware, and locations in between. Their ages spanned as wide, with a forty-year gap between oldest and youngest. All arrived on wheels, a mode of transportation necessary for mobility as each participant experiences what common culture would refer to as a disability—Multiple Sclerosis, Spina Bifida and spinal cord injuries. But these women, attendees of the eighth annual Camp Discovery Colorado, would find themselves transcending that label of disability and, over the course of a weekend redefine their limits, whether internal or external, and find a renewed sense of confidence and accomplishment. By participating in this safe and non-intimidating environment they pushed each other, while pushing themselves, learning new skills, sharing information and above all forming what surely will be life long friendships.
Standing (or, in my case, sitting) by and watching this transformation is enlightening,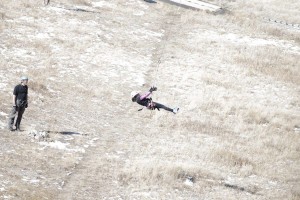 exciting and transformative for me as well. As Founder and Director of Camp Discovery, each year is a delight as I watch, on Thursday evening, a room full of strangers convene with looks of worry, wonder, unease or suspense and emerge on Saturday night as a new group of empowered women. It never gets old. And this year was no different.
Camp Discovery, typically held in August, took place October 6-9, in Empire, Colorado at the Rocky Mountain Village, home of the Easter Seal camp. And although the temperatures were colder than in years past, the scenery more than made up for the chill in the air. Among a backdrop of golds and oranges, burnt siennas and forest green, autumn proved to be an idyllic host to the fifteen female attendees.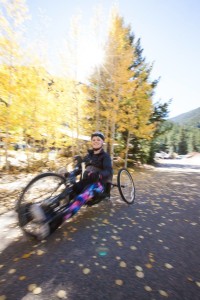 Activities included the challenge of climbing a rock wall to the reward of flying through the meadow on a zipline. For those with a competitive spirit, the Paralympic sports of tennis, handcycling and boccia ball were offered. Lacrosse and karate tested skill, reflexes and coordination. Personal growth activities included: painting, a cooking lesson and a demonstration of essential oils. And for relaxation and returning to center, participants learned meditation and breathing skills, stretched out of their chairs in yoga and were treated to a healing massage.
The takeaways from Camp Discovery are, in many ways, intangible and hard to describe. But, here, in their own words, participants reveal some of the many firsts experienced at Camp Discovery:
First time flying on an airplane since my disability
Realizing for the first time that I can still be beautiful despite my disability
First time participating in an all-female, wheelchair sports setting
First time meeting so many women in wheelchairs all in one place
First time feeling like an athlete again
Finally finding an activity I am really good at
T's and sweatshirts sized for women! First ever sports camp where the shirts fit me!
Learning that I have a support system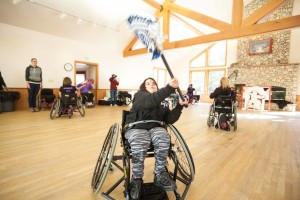 Each year is unique at Camp Discovery. The participants color the atmosphere, adding their own personalities and experiences to the group, but the one thing that remains consistent is that, in just three days, they learn, grow and are inspired to redefine their lives knowing what is possible.
For more information and photos:
Please visit www.thecycleofhope.org and www.facebook.com/TheCycleofHope or www.facebook.com/CampDiscoveryCo
About Camp Discovery: 
Camp Discovery began when founder Tricia Downing had a vision of creating a place where women with disabilities could come together for adventure, fun and camaraderie, in an non-intimidating environment, allowing them to learn new activities, find inner strength and redefine their lives. 
This concept was based on Tricia's own need to reinvent herself following a life-altering accident when she was struck by a car while on her bicycle. Going from competitive cyclist to paraplegic in the blink of an eye, life as Tricia knew it was over over. Or so she thought. Following her stay in the ICU after the accident, she spent three-and-a-half months at Craig Rehabilitation Hospital, a facility specifically for spinal cord injuries (SCI) and traumatic brain injuries. While there, Tricia found herself as one of only two female patients in the SCI unit. After being discharged from rehab Tricia didn't skip a beat and immediately began pursuing the athletic lifestyle to which she was accustomed, Becoming thoroughly entrenched in wheelchair sports she found a new home in learning to do her old activities in new ways, but found she was still outnumbered by the men.
Although males account for 80% of spinal cord injuries according to the National Spinal Cord Injury Statistical Center, Tricia knew there must be women around the country in her situation, who wanted to be active while having the opportunity to learn and participate with other women. And since none of the programs she found matched her ideal situation, she set out to create her own, and in 2009 Camp Discovery began.
This two-and-a-half day retreat has seen seven successful years operating in partnership with a like-minded non-profit organization (as fiscal sponsor). However in 2016, Tricia and her committee decided it was time to step out and create an identity of their own to expand their offerings and grow the program throughout the country. Thus, The Cycle of Hope organization was born.