Get Your Grit On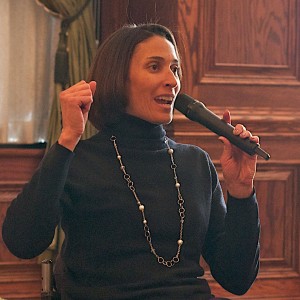 Mental Toughness is not a character trait exclusive to superstar athletes and wartime heroes. But we can learn from their example. In truth, Mental Toughness is a learned skill vital for anyone who seeks to overcome obstacles and adversity in order to achieve their goals. Through her own life experiences, Tricia has developed her own Mental Toughness through her personal journey from tragedy to triumph to become a world-class athlete and mentor.
In her presentations, Tricia teaches audiences to:
Get Up: Respond to adversity by creating a game plan through goal setting and clarifying the steps to achievement.
Shift Gears: Increase motivation, build self-confidence and deal with setbacks by reframing negative events and challenges.
Breakaway: Achieve your personal best by using positive self-talk, celebrating small victories and embracing opportunity to overcome self-limiting beliefs.

Tricia believes grit and mental toughness are about much more than athletes and gold medals, but about grace, resilience and continually finding the strength to move forward and achieve.
Invite Tricia to share her strategies with your team today.
Strength. Courage. Perseverance.
At thirty-one, Tricia Downing was in the best shape of her life. In the summer of 2000, Tricia, an avid cyclist, drove across the country for what amounted to eighteen races in twenty-three days. She returned from her adventure to a fresh start: a new job awaited her, and, determined to make the next summer the year she would make her mark on the world of cycling, she began a rigorous training strategy.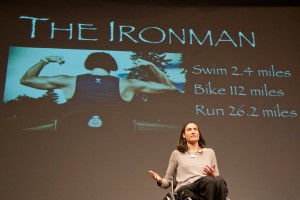 But on September 17, 2000, Tricia Downing's life took a detour. While training on her bicycle one sunny Colorado afternoon, Tricia collided with a car that turned directly in her path, and instantly became paralyzed from the chest down. As a competitive road and track cyclist and lifelong athlete, losing the use of her legs was devastating on all accounts. As she re-learned to do everything from sitting straight up to navigating through her house in a wheelchair to returning to work and operating a handcycle, her grueling recovery took her to the very core of her athletic mettle. This inner strength helped her to not only learn how to live life as a paraplegic—a label that took time to grow accustomed to—but to have the courage to return to the competitive sport she loved and almost lost. Determined to live life on her terms, Tricia turned her misfortune into opportunity, and is now a wheelchair athlete, competing regularly in events around the globe.
Each of us faces hurdles, challenges and adversity, which seem insurmountable when we first face them. Tricia will help you learn to see these obstacles as opportunities and build the strength, endurance and courage to cross the finish line, no matter the size, distance or difficulty of the "race."
Tricia's presentations motivate her audiences to reach further and to persevere in the face of heartache, trials and change. She shares the importance of authenticity, passion and belief in oneself. This program not only provides inspiration, but gives practical strategies to emerge from difficulty and get back on a positive track to success.
Let Tricia motivate your audience members to achieve their personal best.