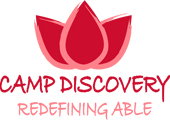 Have you ever surprised yourself by doing something you never thought you could? Welcome to a typical day at the Redefining Able/Challenged Athletes Foundation Camp Discovery. This event challenges women with disabilities to overcome fear, obstacles and limiting self-beliefs to unlock possibility. Over the course of three days, through a series of athletic and personal challenges, the internal question for these women changes from "Can I do this?" to "I can do this, and so much more!"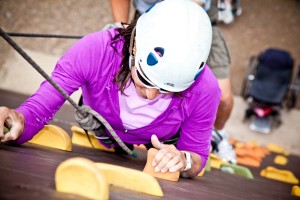 Tricia Downing founded Camp Discovery in 2009, nine years after sustaining a spinal cord injury. Prior to her accident she was a competitive cyclist in the road, track and cyclocross disciplines, but was injured in September of 2000, when she was hit head on by a car while training on her bike. After spending three and a half weeks in the hospital, she entered rehab at Craig Hospital, where she was one of only two female inpatients on the spinal cord floor.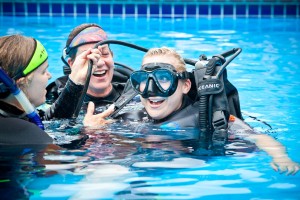 When she was discharged and began to re-enter the athletic world, more often than not, she found again that she crossed paths with few women, and the activities Tricia choose to participate in were dominated by men. Not to be discouraged, she learned wheelchair activities along with her male counterparts, but also yearned for the bond and companionship of other women.
Finally in 2009, she challenged herself to see if she could find others in her situation, who were looking to be active, fit and create a community of support. It was then that she dreamed up Camp Discovery, a place where women could leave their limits behind and find out what they were capable of.
Tricia and a group of dedicated volunteers created a three day camp for women 21-years and older who experienced injuries or disease/disorders of the spinal cord, requiring full-time use of a wheelchair. The camp was designed to teach these women sports and fitness activities, while creating lasting friendships with those who have had similar experiences and obstacles. Through the experience, participants learn new skills, experience renewed energy, and boost their self-esteem, body image and confidence.
Here is what Camp Discovery participants have had to say about the experience:
My experience at Camp Discovery was awesome and definitely a blessing. It took me out of my element. I also made a lot of new friends and I hope to do it again next year.
Camp this year was once again a growing experience! I loved that it was accessible and gave me the chance to do things I haven't done since my injury.
Without this camp there are many activities I would have never tried or had the confidence to try. I didn't believe in myself, that I might be capable of doing anything because of a spinal cord injury and being paralyzed from my waist down. Camp offers opportunities in a very safe environment. No fears. Just women, and plenty of excitement and rewards for personal accomplishments.
Before going to this camp I was very depressed and knew nothing about all the different activities that I can still participate in. But now since Camp Discovery I have realized that I am able to do anything I want too and am so grateful to have had the opportunity to participate and create long lasting friendships!
For more information about Camp Discovery, please visit: www.campdiscoveryco.com