Last night as I worked on the final logistics for the 2015 Camp Discovery, all I could think of was how tired I was and how much work it has been to put together another edition of this three-day retreat. I must admit it's challenging to sustain a volunteer-run event such as this where the logistics run deep and our committee is small. But while I was busy feeling sorry for myself, and the work I had yet in front of me, I decided to take the time to step back and think about how and why this Camp came to fruition and how it's become a vital event to sustain.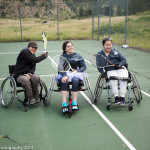 It was a night much like last night, in 2008, during which I was surfing the net for who knows what, when I came across a grant application for $5,000 from the Avon Foundation. The application stated that funding would be given to women who wanted to create programming which would make a difference in the lives of other women, whether in their community or throughout the world. When I saw the application, I immediately conjured up a flash of an idea I had had at one point to bring together female wheelchair users, such as myself, to do a fitness/adventure camp. At the time I had been participating in road races and triathlons for seven years post-injury and I was still seeing so few women within the fields. I wondered where they were. Certainly, I wasn't the only female in the country who had sustained a spinal cord injury. There must be others, I thought, but where?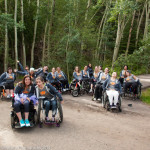 I sat and stared at the computer wanting to fill out the application, but knowing full well that I didn't ultimately have a solid plan in place. But some of my best decisions have come from simply jumping off the proverbial cliff and figuring it out on the way down. I filled out the application and some three months later, I received a letter stating that I had won, one of these prestigious grants.
Oh, crap! Now what? That was the moment that my cliff jumping didn't seem like such a smart idea, but there's no better catalyst to getting something done than knowing you don't have an option. I immediately got on the phone and email and started collecting friends who I thought might be interested and willing to help me put together this dream camp. Eleven of us came together and established a mission and vision, timelines and programs. We shared resources and divvied up tasks.
After looking at what we had planned, I knew we couldn't do it on $5,000 alone, so I got to the task of raising money. The dollars trickled in from friends and family who believed in my mission, as well as a grant from the Challenged Athletes Foundation. We were set and after less than five months, we held the first Camp Discovery in 2009. That year, the volunteer committee learned a lot about how to run an event such as this, and though it was slightly stressful behind the scenes, none of the participants were any wiser. They were testing themselves and their limits in activities such as handcycling, golfing, scuba diving and more. They were smiling, laughing and growing. It was an amazing success.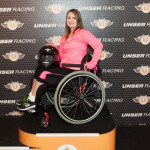 And now here we are, ready to embark on year number seven of Camp Discovery and the momentum couldn't be any stronger. And as I worked on the details of next week's camp, I decided to take a step back and reflect not on the workload camp brings, but the rewards, which make not only the lives of the participants richer, but mine as well. It didn't take long to find the memories of the 2014 Camp on Facebook and in my email inbox and I was instantly transported to Camp Discovery 2014, which in my mind was truly magical and the best year yet.
It's still hard to put a finger on exactly what made it perfect, whether we were finally in an organizational/logistical groove, or if it was the chemistry of the campers and staff or who knows what. But one of my volunteers wrote a great summary of the event afterwards entitled—Things I Now Know. The post was inspiring, hopeful and best of all—contagious. Many campers and staff members added to the list and to look back on it and be able to share it, I believe shows the true impact of bringing together a group of people, despite the talents, personalities or challenges they bring to the table, to encourage them out of their comfort zones, allow them to push their limits and to become cheerleaders for each other along the way. The transformation is, in fact, life-changing. Camp Discovery has the ability and impact to change perceptions, encourage new ways of thinking and to ultimately empower all who participate from staff and volunteers to participants. And here are just a few things we learned along the way—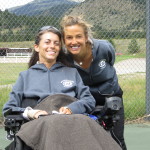 Things I now know:
Pushing your limits brings great rewards.
Girls in chairs are just like girls out of chairs… except maybe a little more badass and a lot more fearless.
"If you see it in others, you have it within yourself."
What I now know is that I can be active, even though I weigh a little more than most active people. I always had this fear that I would not be good enough or that I would suck at what I want to do because I have never been a 'fit' girl. This Camp and everyone involved helped me to see that no one cares about your body type and how well you do, what matters is that you tried, and gave it your best. That alone was good enough for me and helped me feel extremely good about myself.
What I learned about myself was that the limit I set for myself was a lot less than I actually can do. I never thought I had the energy to do that many activities.
Women in wheelchairs are sooo powerful and will not let adversity stand in their way of accomplishing exciting adventures.
We accomplish the most when we focus on what is possible rather than worrying about that which we can't control.
Connecting with others and sharing our support, trust, vulnerability, laughter and tears make us stronger.
We all have a Superhero inside of us.
Now looking back, the details don't seem so daunting. Instead, I focus my strength on doing each task, one thing at a time, realizing that with great work comes great reward. I look forward to the unfolding adventure of Camp Discovery 2015.