I knew it was a possibility.
Six days before being named to the U.S. Paralympic team, I received an email from National Shooting Team Coach, Bob Foth, that said I was one of four U.S. athletes who had the necessary selection criteria—two Minimum Qualifying Scores (MQS) shot in international competition—to be named to the 2016 Paralympic team, if:
The Russians should be denied in their appeal against being banned by the International Paralympic Committee (IPC) from this year's Games (read article here) and
Should the International Paralympic Committee choose to reallocate those slots to other qualified athletes across the globe.
It was the kind of news that keeps you awake at night, makes you hold your breath in anticipation and has you dancing between tears of hope and fear at the same time. Because I did not want to get my hopes up, I told no one of the possibility. Not even my husband, Steve. It was the hardest secret I've ever had to keep, but I didn't want to have to deal with the pity of potential good fortune going awry.
But on Tuesday, August 23rd, while practicing at the Olympic Training Center (OTC) I got the nod that I had in fact been named to Team USA (see the blog here) and in seven days time I would be headed to Rio to compete in the Women's 10-meter Air Pistol event (I did not have the necessary MQS in my other event (.22 sport pistol) to have qualified to compete in that also). From that moment forward I couldn't think straight, hold one thought in my head for any length of time and was filled with excitement, worry and anticipation over the fact that my life suddenly switched directions and I was going to have the opportunity at a lifelong dream.
I tried my hardest to complete practice that day, but my mind had a plan of its own and was busy calculating everything that would need to happen between the time I learned of the announcement to the time I would board a plane seven days later.
After shooting that day, I had lunch with my teammates in the cafeteria at the OTC and one of the nutritionists on complex met with me to discuss several issues: the recommendation that all athletes begin taking probiotics before leaving for Rio, the types of food we could expect in the Village cafeteria, what was safe to eat and what to stay away from, snacks that would be provided in the Athlete Services Center and snacks I should plan to bring on my own (namely, peanut butter—if I wanted any. Apparently, the Olympic team ate more peanut butter than expected, so quantity was limited), and where to find her in our building in the Village should I have any nutrition questions or issues while I was in Rio.
Following lunch I went directly to the customs office near the Colorado Springs airport to register my new air pistol. Since I hadn't traveled with it out of the country before, that documentation would be required to re-enter the United States with my equipment at the end of the trip. Additionally, I have learned it's important documentation to have with you as you enter other countries, should you need proof of ownership and serial number of your firearm.
Then I started planning out my one week of prep time. Wednesday and Thursday would be spent preparing for a weekend speaking engagement, Friday I would fly to Boston, Saturday I would speak in Boston and fly home, pack Sunday, and Monday do last minute errands and get my hair braided (an absolute must, when traveling internationally).
Additionally, I had at least twenty emails, from Coach Foth, sitting in my inbox by the end of the afternoon. There were messages about airline schedules, forms to fill out, clothing sizes to submit, event tickets, team processing, the post-Games White House visit, and information about entering the mandatory drug testing pool through the United States Anti-Doping Agency (USADA). I had been in the pool as a member of the National Rowing Team, but had never actually been subjected to a random drug test. All of that changed, however, in the short lead up to the Games. I filled out my "whereabouts," which is an online calendar in which you actually detail your daily schedule so that the USADA folks can find you at pretty much any time to ask for a urine sample. I registered on Tuesday and lo and behold, opportunity knocked (you could say) at 6am on Thursday morning. I nearly ignored the doorbell (which rang twice), until the wires finally connected in my brain that it wasn't actually my crazy next-door neighbor, but was in fact, most likely USADA. It was my official welcome-to-random-out-of-competition-drug-testing.
**
The other fun thing about being named to the team, was being able to surprise Steve with the news. Steve has worked for the U.S. Paracycling Team consistently for the past two or three years, and off-and-on since about 2003 (he worked at the 2004 Paralympic Games in Athens) and was already headed to Rio as a cycling team mechanic. He had left the house two weeks earlier to attend training camps in California, so he hadn't yet received word of my news. I sent him a text that I knew would convey the information as well as give him something to smile about. But first, there's a backstory here:
You see, the lead up to Rio was difficult for me. Making a Paralympic team has been on my athletic goal list for many years now, however it has eluded me for the past sixteen. My first opportunity actually came as an able-bodied athlete in 2000, when I was racing as a tandem pilot for a visually impaired cyclist. My partner and I had qualified for the Sydney Paralympic Games in the road Time Trial, but mere hours after we solidified our spot, my partner informed me that she no longer wanted to race with me and she would not be using me as her pilot in Australia. It was a major blow as I had put my heart and soul into the tandem endeavor, but in the end, it was her race and her decision.
During the Games of 2004 and 2008, I was engulfed in my triathlon racing as a member of the first (loosely formed) national triathlon team, for athletes with disabilities. At the time it was called the "Paralympic Development Team," although it was not yet a Paralympic sport. But there was a dedicated group of athletes, organizations, and individuals lobbying to get it included in the Games, and my role as an athlete was to demonstrate participation and interest in paratriathlon by showing up in national and international events. By all accounts, I think many of us believed and hoped that Triathlon would debut in 2012 at the London Games. And as I competed (and won) the London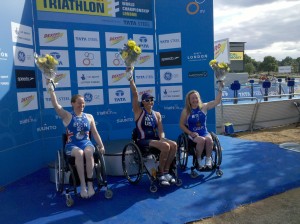 Paratriathlon in 2010, contested on the actual Olympic course, I was still hopeful. But our sport would not see the Games until this year in Rio. Unfortunately, far beyond the longevity of my tri career. 
But a backup plan emerged when I was recruited by US Rowing to join their Paralympic development program, with the goal of readying myself to compete in rowing in London. Unfortunately, with such a short time to learn and become proficient in the sport, as well the fact that I failed to qualify a US boat for the Games (while competing in the World Championships in 2011), all while being plagued by a string of injuries from pushing too hard too fast, I would instead end up going through four surgeries and spending the summer of 2012 bedridden.
On to my fourth sport of shooting. Who knew? That's a long story in itself (read the blog post here) but as of the final selection match at Ft. Benning, Ga., in November last year I had not qualified for the team. And although it wasn't much of a surprise (I was still relatively new to the sport), I had worked hard and had higher hopes and expectations of myself. But it wasn't to be. Therefore, I had to live the experience vicariously through the many friends I have who did make Team USA. But it was a lot like being around a group of people invited to the party of the century and your invitation never came in the mail. I was happy for them, but disappointed that I would have to wait another four years for my second "shot." I watched posts on Facebook of people training, being named to teams, celebrating—all tagged with the hashtag #RoadToRio, and me feeling dejected that it still was not my time. And with Steve going to the Games as a Paracycling mechanic, that #RoadToRio went right through my own house, only I wasn't on it. So I often made the comment that I would be excited when the #RoadToRio was over and we could all talk about something else.
So my text message to Steve, which I sent from the range at the OTC immediately after finding out about making the team, was simply a series of hashtags. I wrote:
#TheRoadToRioIsBumpy
#NaughtyRussians
#SeeYouInHouston
He knew right away what that meant and I received an immediate text in return:
S: Whoa…for real?
T: Fo' Sho'!
S: Yay!! We need a house sitter.
That's my husband. All in one breath excitement and down to business at the same time. I promised to work on the house sitter part.
The news put a whole new spin on things for both of us. Not only would we reunite sooner than the five weeks he was set to be away, and I was going to represent my country and sport in the Paralympic Games, but we'd both be doing what we loved—at the same time, in the same place and both as official members of the Team USA delegation. (We would also be in Rio together on our ninth wedding anniversary. Sport was what brought us together and continues to sustain us personally, professionally and as a couple.)
And it was a miracle to me, that sixteen years after this quest began, through the ups and downs of my athletic career, I would actually catch a break and surprisingly find myself with many friends and fellow athletes—on the #RoadToRio.
To read about the next part of my journey, check back for tomorrow's blog.