September is National Spinal Cord Injury Awareness Month—
After fifteen years of using a wheelchair for mobility, you'd think I would be immune to it. Strangers boldly approaching and asking questions such as, "What happened to you?", "Will you ever walk again?", or "Wow, I thought my life was bad, but then I met you." (I'm still not sure how to take that one)
I don't think you'll find a single wheelchair user who hasn't come across this situation at least a thousand times, but today's question was one that grates on my nerves more than any other. "Is that just temporary or are you confined to that wheelchair?" I was asked this question while out shopping by a woman dressed in lightly used sporty running tights and tank top and looked like she might have just run-walked a 5K. A well-meaning and innocent question I suppose she thought, but…confined? Not only do I think confinement is the furthest word from my reality, but I wonder what goes through a person's head when they say that word. Do they honestly believe I am stuck in my chair 24/7 or that I sleep sitting up? Or is it simply that they look at the chair and forget to see me? To see that I am a living, breathing human being who has the same needs, desires and dreams they have. (And not only that, but an athlete who would do the same 5K before my aforementioned inquirer, could get around the block).
I also find it interesting that the same sentiment has been written over and over in the variety of media coverage I have experienced over the years, much of which has chronicled my Ironman journey, and yet somehow, I have still been referred to as being 'confined to a wheelchair.'
If there is one thing I have learned from my experience with disability, is that it is far from confining. In fact, in many ways it has set me free of what I perceived to be limitations in my past. Ever since the day of the accident, I have looked for all of the ways I could achieve my goals, instead of spending the time thinking about why I couldn't or shouldn't be able to do something. In fact, I feel like I have achieved my greatest accomplishments since my injury. Never in my able-bodied life would I have imagined competing in the World Championships in three different sports, writing a book, creating a women's camp or heaven forbid, become a professional speaker willingly getting on stage to speak in front of hundreds of people at a time.
When asked about it several years ago by a reporter from Muscle and Fitness Hers, I credited it to my background as an athlete. I told the reporter that I had an athlete's mentality—I decide what I want to do first and figure out how to do it later. And that's the way I have approached my post-accident life. I challenge myself with the statement of, "What If?" and find it gets me further, and keeping me from thoughts that are confining.
When I couldn't swim freestyle after my injury, but I wanted to do a triathlon, I asked, "What if I swam backstroke along with an able-bodied swim guide?" When I found it hard to meet other women in my situation, I asked, "What if I created a place where women with disabilities could come together to share a part of their lives—and Camp Discovery was born." When I wanted to be able to do an errand by bike rather than by car, I asked, "What if I (in this case, "I" loosely translates into what if my HUSBAND) devised a system to attach my wheelchair to the handcycle so I would have it for use at the other end of my journey?"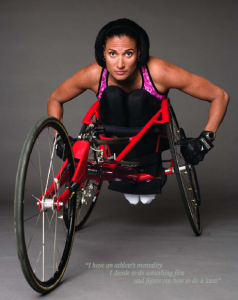 With all this in mind, it saddens me to think that those of us using wheelchairs for mobility are viewed as 'confined.' Knowing what I have learned about creativity, flexibility and possibilities, I have come to the conclusion that confined isn't a state of being, it's a state of mind. It's saying no before giving yourself a chance to say yes. Or it's a lack of imagination. Most of all, it's living without ever saying, "What If?"
Since my accident, I have amassed an amazing amount of respect for the disability community. Among it I have found some of the most inventive, innovative and open-minded individuals. I have found people who decided what they wanted to do and then found a way to do it. And just when I think I've seen it all, another amazing invention, contraption, or activity is revealed to me. Because being in a chair isn't defining or confining. It is simply a mode of transportation—a way to get around. And for me, my chair is what sets me free.
So the next time you see an individual in a wheelchair, don't look at the chair and think you are talking to someone who feels confined by his or her circumstances. Because you might be talking to a famous author, an inventor, an artist who draws using his or her mouth, a scientist, an actor, a journalist, or a wheelchair athlete who just might be able to kick you and your 5K running butt to the curb.